Customization is a tendency for people in all kinds of industry, especially for the promotional industry. With 36 years experience, Forever Emblem is definitely a trusted partner for your customized item in any promotional activities, advertising or sports events. To satisfy the clients with one stop service, we've been refining ourselves. So we carried a wide production range as all kinds of metal crafts, embroidery items, woven items, lanyards, soft PVC items, activities clothes and wears as well as activity accessories like hat, flag, sweatband, bag etc.. But today, we'll introduce the details process about one of our main product - customized sports medals first.
Here You can just try to offer as much as possible information according to below specifications to us and then we'll suggest the best accordingly.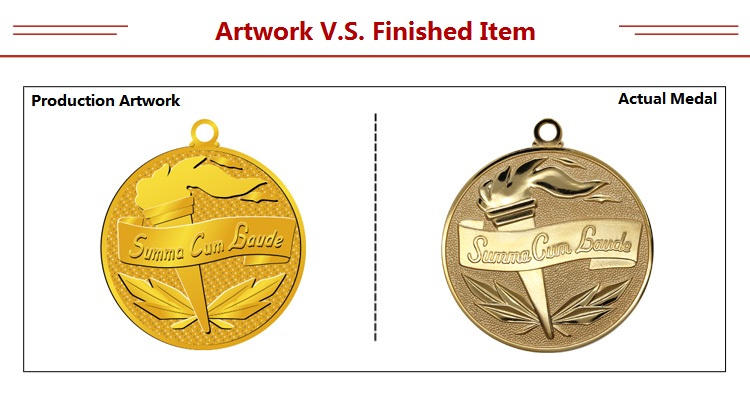 Size of the customized item: General medal size is 35~60mm dia,some would be up to 100mm or bigger, thickness could be 2~5mm. You can specify yours according to your budget.
Material of the customized sports medal: The most popular option is zinc alloy, but bronze and iron would be available as well.
Color of the customized sports medal: You can choose the medal without coloring, soft enamel, imitation hard enamel or printing sticker for your own design.
Plating of the customized sports medal
: Gold, bronze, nickel, silver, antique gold, antique bronze, antqiue silver, satin series etc.. You can refer to our plating color chart here.
Logo of the customized sports medal
: This medal is 3D one side, you can arrange yours as 2D or 3D in one side or both sides.
Attachment of the customized sports medal: This medal requires V type common ribbon without logo. We still have different sewing type (V type or H type) and different
ribbon material
for your selection.
Artwork of the customized sports medal: The most preferred artwork is vector file in AI or CDR + JPG or PDF. But don't worry we have the in-house artist help to refine the artwork if you only have a picture or a hand draft design.
QTY of the customized sports medal: MOQ from 1pcs to an infinite number.
Packing Method of your customized Medal: We can offer general pack as poly bag, bubble bag or customized blister packing, head card, various packing box etc.
Here I want to emphasize again that you don't need to worry that I'm not sure all the details about above columns. Just share what you have in your hand or mind, then leave the rest to our professional sales Rep.. Thanks.