Epaulette,also spelled epaulet, is a type of ornamental shoulder piece or decoration used as insignia of rank by armed forces and other organizations. In several European armies, epaulettes are also worn by all ranks of elite or ceremonial units when on parade.
Epaulettes are fastened to the shoulder by a shoulder strap or "passant", a small strap parallel to the shoulder seam, and the button near the collar, or by laces on the underside of the epaulette passing through holes in the shoulder of the coat. Colloquially, any shoulder straps with marks are also called epaulettes. The placement of the epaulette, its color and the length and diameter of its bullion fringe are used to signify the wearer's rank. At the join of the fringe and the shoulder piece is often a metal piece in the form of a crescent. Although originally worn in the field, epaulettes are now normally not only limited to dress or ceremonial military uniforms.
Donghong has been experienced in offering the military uniform accessories. So the epaulet would be one of the strength products as well. We could offer the epaulet in various material as embroidery epaulet, woven epaulet, hand-made embroidery epaulet, PVC embossed epaulet,
metal epaulet
etc. You can choose your preferred way to present the logo you required.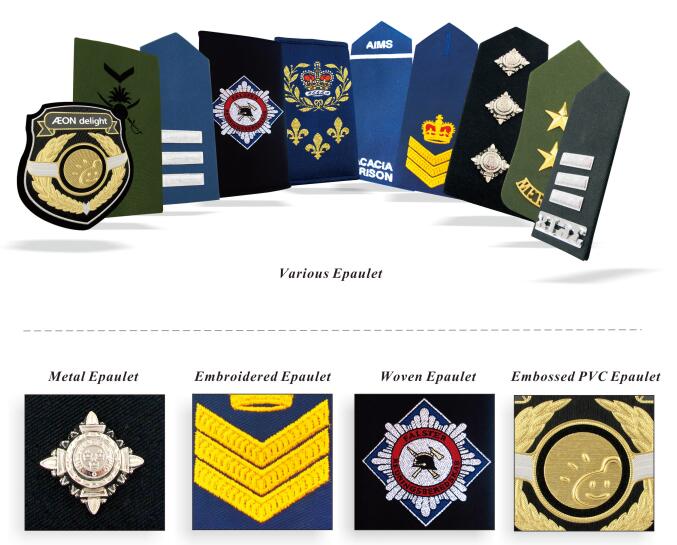 Specification of the Epaulet
1. Logo Process – embroidered, woven, PVC sealed, metal etc..
2. Fabric Material – twill, cotton, velvet, felt etc..
3. MOQ is 100pcs per design.
4. Custom designs welcome only.
5. Various Backing Options: Merrow sewing Backing, Standard Sewing Backing, Elastic Strap Backing, Leather Strap Backing, Fabric Strap Backing, Velcro backing
6. Inner lines would be cotton pattern, non woven fabric, cardboard, plastic board etc..
7. Unit price and set up fee are negotiable.
With warehouse both in Dong Guan & Hong Kong enables a faster and easier delivery with every possible means, such as by air, by sea or couriers both from China mainland or Hong Kong.
Reasonable price, high quality, fast turn-around with no rush order fee, speedy delivery to worldwide by FedEx/UPS/DHL. Act efficiently within 8 working hours. As the best military uniform accessories' factory, we work all the best for your needs. If you would like advice or a quotation for custom epaulet, please feel free to drop us an email!
Email: order@forever-eb.com Tel: +86-769 22900190 / 0191