Embroidery patch
, also known as a cloth badge, cloth patch, embroidery badge, is a piece of embroidery which is created by using a fabric backing and thread. It is an important identification tool for military and other uniformed personnel. Except for the uniforms, it's also widely used in other industry or aspects such as embroidery bookmark, embroidery gift card, embroidery key chains, embroidery tag etc.. With it's colorful and quality presenting way of the logos as well as economic cost, more and more people would love to order their own design embroidery patches as their fashion and brilliant identification symbols.
Serving customers all over the world, Dong Hong could produce 5 million embroidery patches per month with lead time from 7 days for urgent orders or 14 days for regular orders. With 40 automatic embroidery machines, we always accept custom emblem, patches, appliqué, epaulettes and other motifs orders. With our unique digitizing system, Tajima machines always offer accurate and consistent quality assured in your every order.
To simplify the communication of working with us on the OEM embroidery patches, I'd like to share some hints to customize an embroidery patch.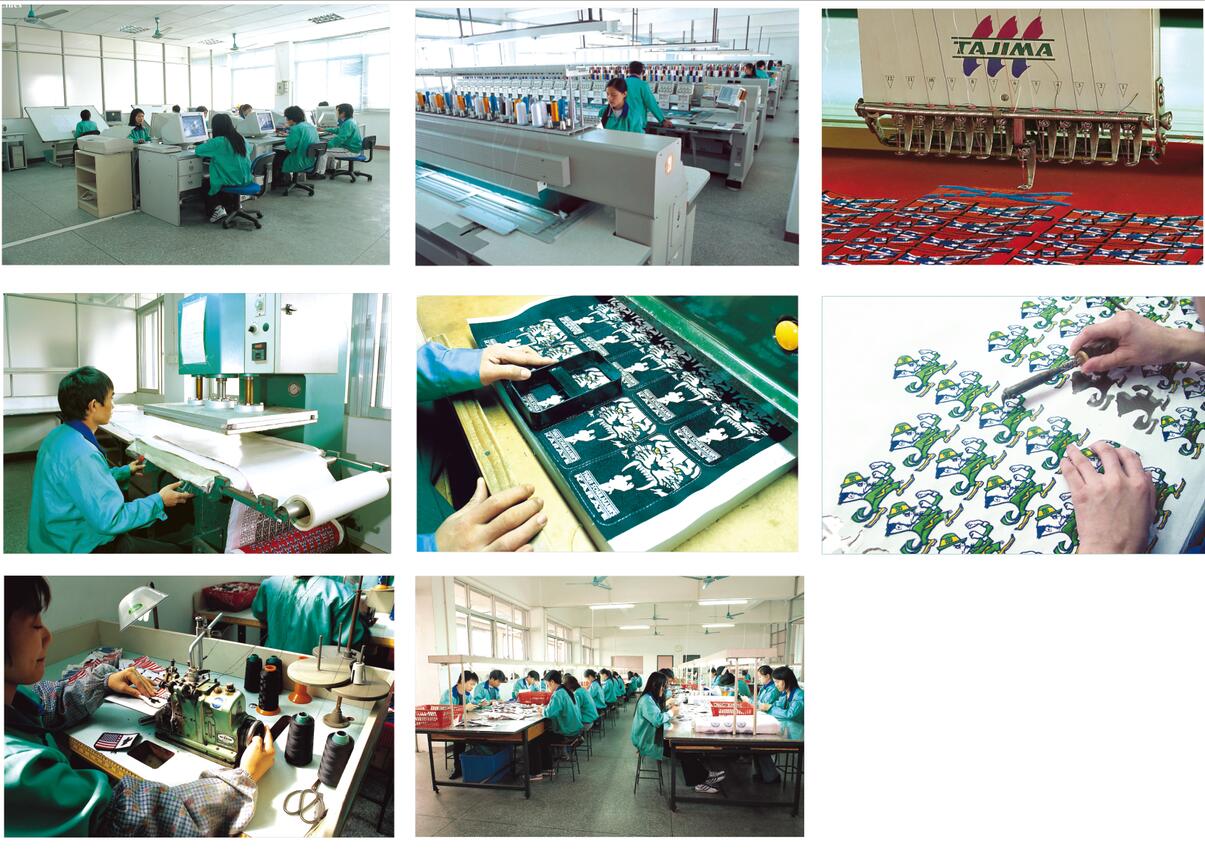 Specifications
1.Thread Type Options: Rayon thread, polyester thread, luminous thread, UV thread, (gold/silver) metallic thread
2.Thread Colors: According to thread color chart or PMS number and within 9 colors at no additional change.
3.Size: to be customized. From 1 inch to 17 inch.
4.Background Fabric Options: Twill, velvet, felt, reflective fabric or other special fabric
5.Fabric Colors: Choose from the polyester twill/velvet/felt color chart
6.Embroidery Area can be 30%, 50%, 75%, 100%.
7.Backing Options: Iron on, hard PVC, paper coating, adhesive tape, velcro backing, no backing
8.Border Options: Merrow, hand cut, heat cut, laser cut.
9.Special Design Options: common 2D, 3D design, with printing, with button loop
10.MOQ: 100 pcs per design.
11.Delivery: 3-7 days for samples, about 14 days for production
So, you can just simply offer the details according to above clues together with your design, then we'll come back to you with the most favorable price soon.