Button Badge, sometimes also named tin badge, pin-back button or pin button, is a great way to promote your company brand logo, communicate a message, mark an event or be fun novelty items. It can be temporarily fastened to the surface of a garment or badges as decoration. It has been very popular among the kids or teenagers considering of its fashion and colorful style as well as cheap cost. So the market is pretty huge. For the company or associations, it's a great way to promote or advertise your company, logo or activities with the small budget. It's also widely used for some charity activities.
Except to be manufactured with a standard safety pin backing, the button badges could be also made with a magnet, mirror, bottle opener or LED flashing light on the backside. It could also be produced as a key chain. Just let us know what kind of presenting way you want, we'll turn your logo into real colorful button badges accordingly.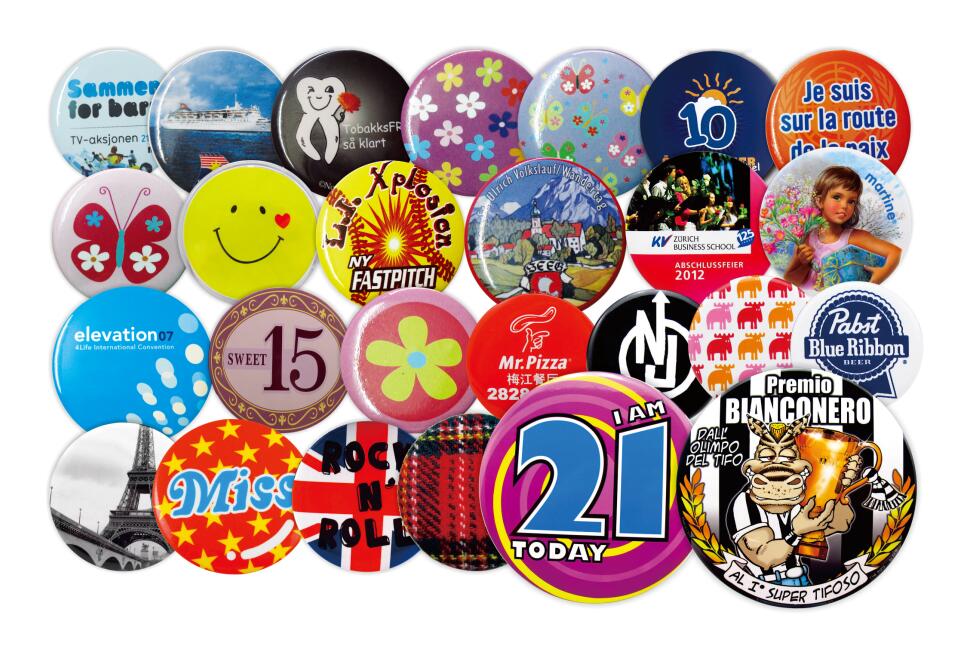 What's more, we have existing moulds in various sizes for round shapes from 25mm to 150mm. But irregular shapes as rectangular, square, triangular, oval or heart shapes are also available. Just check with us about the preferred shape and size you want.
The button badge is a kind of gifts which is very easy to be made. Almost any design you can imagine can be made into
button badge
. Customized designs are warmly welcome. Some of our clients who might be the wholesaler or retailer on the promotional item industry will buy the blank button badge parts from us and then they'll print the single client's unique logo on their own shop, then assemble and sell accordingly. This kind of unique presenting way is warmly welcomed by the end users.
With warehouse both in Dong Guan & Hong Kong enables a faster and easier delivery with every possible means, such as by air, by sea or couriers both from China mainland or Hong Kong.
Reasonable price, high quality, fast turn-around with no rush order fee, speedy delivery date to worldwide by FedEx/UPS/DHL. Act efficiently within 8 working hours. As the best badges factory, we work all the best for your needs. If you would like advice or a quotation for custom design button badges, please feel free to drop us an email!
Email: order@forever-eb.com Tel: +86-769 22900190 / 0191