Many people are not sure how much budget they need to set aside when customizing medals. Due to too many factors affecting costs, it is difficult for suppliers to accurately calculate the cost of customizing medals without knowing your specific design and requirements.
However, in this article, we will tell you which factors will affect the pricing of customized medals, so that you can fully understand the situation before customizing the medals.
1. Type
There are many different customized medal types made of various materials, commonly used metals include zinc, iron, brass, silver, copper, and PVC, wood, glass, etc. Depending on different processes or your requirements, you can choose to use different ones.
The following is a list of the most popular types:
Die cast zinc alloy medals: very suitable for simple or complex designs, such as; 3D carving of characters and urban landscapes, multi-level and multi piece designs, mobile components, and special features, regardless of color.
Die Struck iron or bronze Medal: With excellent texture, it is very suitable for commemorating individuals, such as the Hall of Fame, guest of honor, lifetime achievement badge, and advanced awards.
Acrylic Medal: Lightweight and can be printed in multiple colors. If you want something different from traditional medals, you can choose it.
Wooden Medal: Unique material in medal customization. It can be perfectly combined with the theme of outdoor off-road activities.
PVC Medal: Colorful and safe. Very suitable for children's activities.
Glass Medal: Suitable for some formal and grand awards
2. Quantity
Generally speaking, when customizing medals, the large quantity is, the lower the Unit cost will be. Sometimes the proofing fee and mold fee could be exempted for the large quantity order.
3. Size/thickness
Customized medals can be customized in any size and shape, and larger and thicker medals require more materials, resulting in higher manufacturing costs. The shape of the medal also affects its price. For example, a 2-inch square medal covers more surface area and requires more materials than a 2-inch circular medal.
These additional weights will also affect transportation costs.
Generally, the most popular size for the medals would be around 45-50mm dia and 2-3mm thick.
4. Electroplating
The electroplating color on the surface of medals can also affect the price. Here are some common options:
Shiny (gold, brass, silver, bronze)
Antiques (gold, brass, silver, bronze, nickel, tin)
Matte/satin finish (gold, brass, silver, bronze)
Nickel (black, silver, PMS color)
Natural finish (unplated)
Some topcoats have higher production costs and greater difficulty in application. The final price will be calculated based on your choice.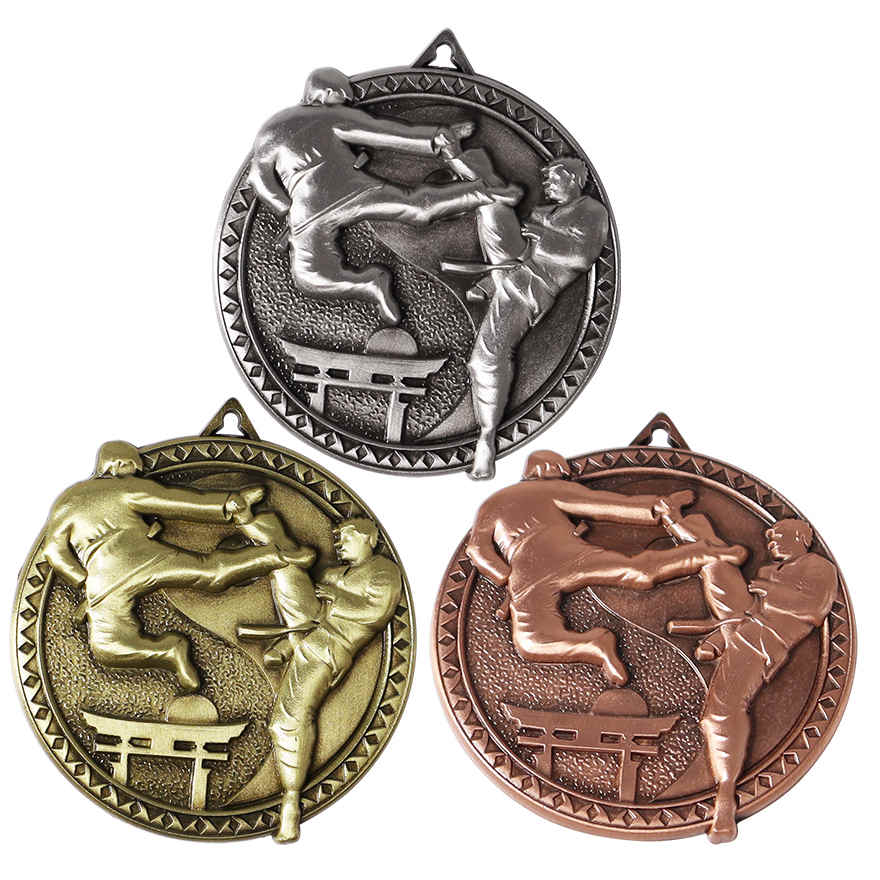 If you have enough budget, you may consider below two aspects as well.
5. Design process
Depending on the type of medal, you can choose to use multiple techniques. The more processes used, the higher the cost. Here are some commonly used process designs:
3D engraving design
Enamel color filling (soft enamel/hard enamel/imitation hard enamel)
Translucent color fill
Glitter
Printing
Add epoxy
Multi piece design
6. Functional design
The following special designs make medals not only ornamental and commemorative, but also more practical.
Spinner
magnet
lamp
Coaster
Key buckle
7. Medal Ribbon and Accessories
The final option for improving medals with webbing and accessories. These may include:
Customized or inventory webbing
Ribbon material
Ribbon accessories
Special packaging (Pvc bags, velvet bags, gift boxes)
If you want to learn more about customizing medals, you can contact us through the contact information on the homepage, whether it's email or phone! After receiving your message, we will quickly respond to your needs and ensure your work efficiency!