Lapel pins, metal medals, commemorative coins and other metal crafts are often required electroplating. Gold, silver, antique bronze, antique gold are commonly used. Gold electroplating can be divided into two types, one is the real gold electroplating and the other is the imitation gold electroplating. The color of the imitation gold is a kind of blue-yellow while the real gold is orange-yellow.

Kindly see below pictures of real gold electroplating and imitation gold electroplating: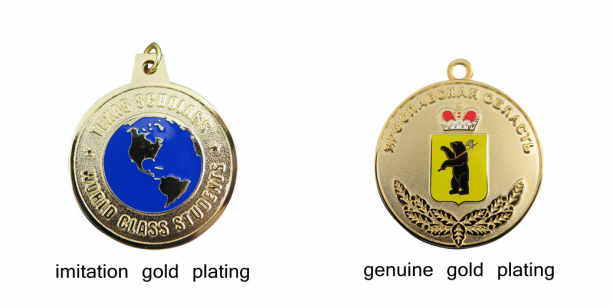 Generally ,brass electroplate liquid is the base content of the imitation gold electroplating and imitated 18k gold is the most common color of the imitation gold. The weakness of the imitation gold electroplating is that they would change the color when get oxidized and it would generally happens in three months or maximum one year. This is mainly because the imitation gold will be added a transparent protection layer in the surface to prevent from oxidation discoloration, once there is a broken point, the air will gradually invade, then cause oxidation and make the color changed into blackness. And being afraid of discoloration, the cheap imitation gold products will be added a thick layer of gold lacquer which would make them look even more fake. What's more, the gold lacquer contains lots of impurities and makes the products' appearance looks not beautiful at all.