If you want to customize your own unique challenge coin, today's article will guide you in designing challenge coins and solve most of your confusion~
The design or theme of a coin usually determines the size of the challenge coin. The common sizes of challenge coins would be as below.
1.75 inches are the most popular and widely used in public, military, commercial, and other fields.
2 inches, mainly used for military awards and award ceremonies.
2.25 inches, used for fashion, military ceremonies, university awards, etc.
Above 3 inches, mainly used for display.
The design or theme of a coin usually determines the shape of the challenge coin. Some common shapes of challenge coins include Circular, square, shielded, hexagonal, star or other custom shape.
The most common shape for traditional and formal design challenge coins is Round. Generally, most military coins are round, and almost all coins in public sectors such as colleges and schools are also round. Therefore, choosing round shape absolutely not going wrong
The star shaped police badge is very famous. They are not only used in real life, but often appear in many American sheriff's movies. Therefore, many companies are also imitating star badges to produce star
challenge coin.
Shield shaped challenge coins are also very famous, used to reward military, police, and public sector personnel. It symbolizes a sense of security and courage, just like wearing a shield.
The rectangular challenge coin is a relatively rare design, usually used in public fashion settings and rarely used at formal award ceremonies.
The shape of the challenge coin mentioned above is not the only design. If you have a more unique design, why not give it a try? It may become a trend!Currently, many organizations and individual artists have launched their unique symbolic designs, such as the sailing club made challenge coins into the shape of a ship's rudder~
Challenge coins can be made in 2D or 3D, depending on the design or personal preference for using them.
2D is a flat image, usually printed or debossed on the surface of a coin. It would be used for designing simple challenge coins usually. They may not look 3-dimensional, but they can be produced quickly.
A 3D logo is a three-dimensional image typically carved or molded onto the surface of a coin. When you touch it, you can feel the curve or beveled effect, while the 2D Challenge Coin is just a flat surface, only have the raised or recessed difference. However, the difficulty of making 3D coins is relatively high, resulting in higher costs and longer production time compared to 2D designs.
Hollow out is also a very unique design.
No 4,confirm the plating color
Most challenge coins may be made of zinc alloy, bronze or other inexpensive materials, but they are coated with different colors of metal to make them more attractive and worth buying. Commonly used electroplating metals include copper, gold, nickel,in shinny effect, antique effect or satin effect etc
No 5,confirm the edge options
Challenging the edges of a coin will give it a unique appearance. The style of the edge is usually determined based on its design or purpose.
For example, the following figure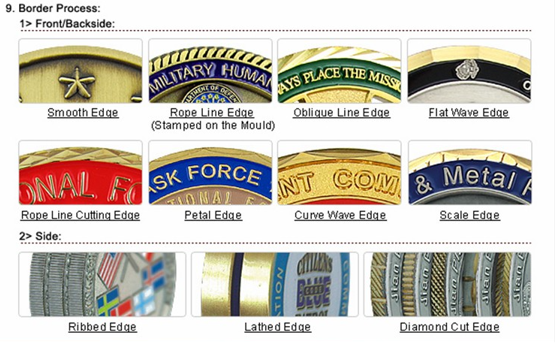 No 6,confirm the special design with extra funcitons
If you want your challenge coin to be more attractive, you can add more fun and functional designs to it.
The bottle opener design is a very popular challenge coin design. Make your challenge coins not only ornamental and collectible, but also more practical!
The spinner is currently a very popular product. If you add a center spinner to a coin, it will act as a spinner. Not only can it become a toy for children, but it can also become a pressure reducer for young people.
The attached figure below provides more details about customizing round coins. Our team can implement these details. If you are looking for a reliable challenge coin supplier, we are your best choice!