As a medal purchaser or event planner, I believe, what you most want to see is being able to customize a satisfactory medal within your budget. Here are three important tips to keep the cost of customizing your medal at an affordable level.

1. Order in advance, do not delay!
Please remember that most custom medals are manufactured overseas, and China is the largest medal production location. There are two general modes of transportation: air freight and sea freight. Sea freight is the cheapest method, but it takes 4-6 weeks longer than air freight. If you can place an order in advance, you will have ample production and transportation time, and you can choose sea freight to reduce your budget which is generally only cost half or even less than that by air freight.

Note: Urgent orders also have additional expedited fees, and you must choose expensive air freight to catch up with the event. Therefore, it is necessary to reserve sufficient time and book in advance.

2. Make good use of open design
An important factor affecting the cost of customizing medals is design. For example, the cost of 3D design is definitely higher than that of 2D design, and the cost of double-sided design is higher than that of single-sided design. What's more, the size would effect the cost a lot as well. If your design is very complex and the size is very large, then its cost is definitely high.(If your budget is very abundant, you can fully realize your ideals.)

Therefore, if you choose to customize some basic design medals, I mean from the aspects of the 2D or 3D, the color complicity, the size etc., the cost will not be particularly high. What's more, if you can even accept the standard and existed plain medals to be added some simple customized logo by laser engraving or printing, it will save you more money further, both in unit price and the mold cost.

Here are some of our open design sports medals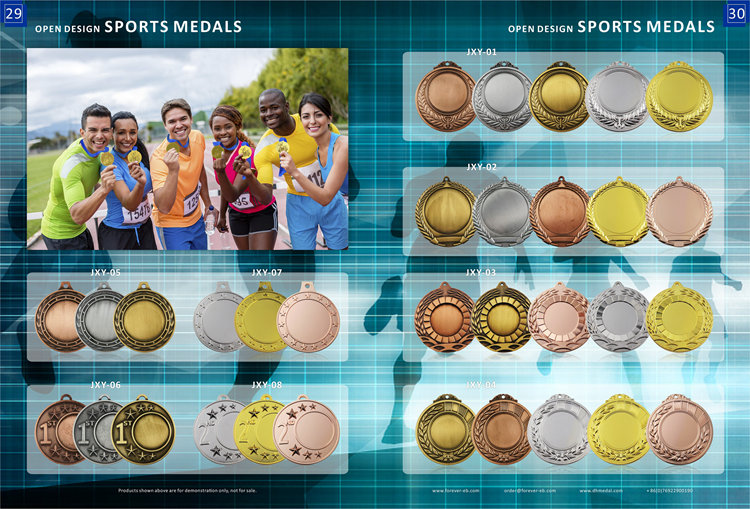 3.The more you order, the lower the price

Like most products, the more you order, the lower the price. The same goes for customized medals.

Therefore, here is a commonly used method for many customers:
You can design a custom medal that can be used for several years. If you have a project that lasts for several years and requires 200 medals this year, but you have the ability (and budget) to order 500 medals, then you can customize 500 medals at once. These medals can be used for this project in the coming years.

For example, a customized 2.5-inch die-cast medal with a quantity of 200 pieces would save around USD0.11~0.15/pc comparing to the cost based on 500pcs since it will be cheaper not only on unit price, but also on the average cost of the mold and freight cost.

Therefore, if your situation allows, you can see how beneficial it is to order customized medals for both years and future events simultaneously.

If you are looking for a trustworthy medal supplier to add surprises to your event and minimize the cost of customizing medals, then our team is definitely your first choice!