For the military belt buckle, the client would seldom require the logo to be presented by printing since the printed logo won't have the embossed or debossed effect and feeling, and also very easy to be scratched off.  Stamping with or without coloring would both be the good way to show the stiff, neat and straightforward image of the military people. As we explained in another page, the logo could be made into the bottom piece as one in whole directly except made as a separate piece, then solder to the bottom piece. Enclosed picture is just any vivid example to show you the effect of the belt buckle with embossed logo stamped into the bottom buckle piece directly. This kind of embossed military buckle has it's own advantages as follows. First, the logo is made as one in a whole with the buckle, then the logo would be definitely everlasting only if the buckle itself still exists. Second, it can help to avoid any possible scratch or hurting to the people who wear it, even if the logo with the sharp irregular shape. Third, it would be a kind of lighter and then save the freight cost accordingly. But different client would have different thinking on the designs. We'd like to say, no matter which style you prefer, just let us know your concept, we can help to turn into reality accordingly.
Donghong has specialized in exporting metal
military belt buckles
for 33 years. Our metal army belt buckle enjoys the good reputation among our customers by its good plating, well polished, vivid detail, durable using etc..
Different Style of metal belt buckle Available
Standard ODM Design with customized logo – For this kind of belt buckle, the logo could be made as separate piece then solder on the standard bottom piece or the logo could be stamped into the bottom piece as well.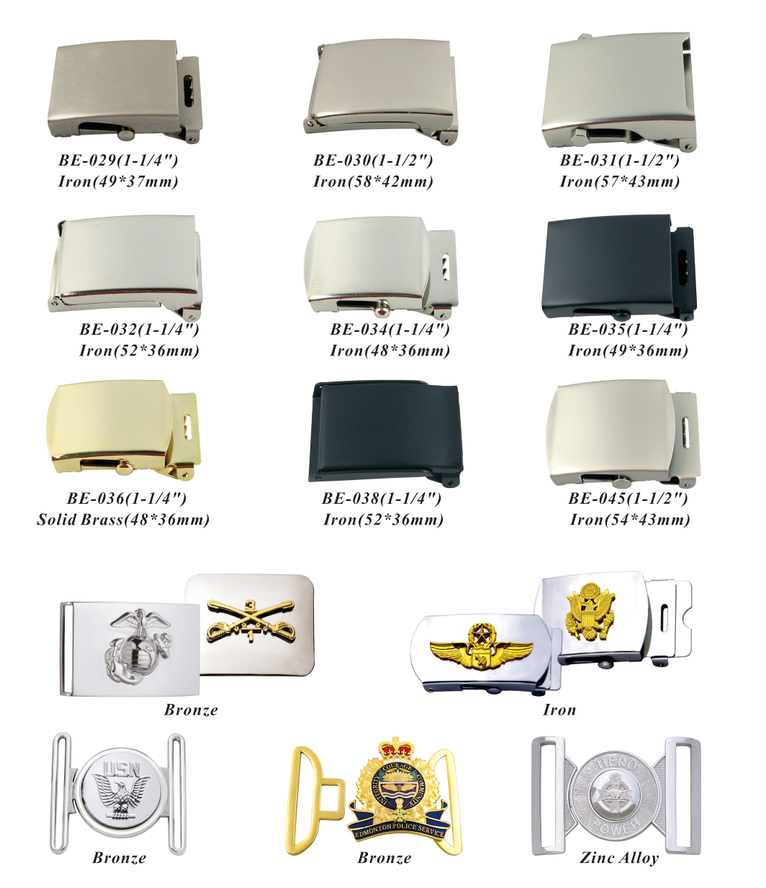 Advantages of our Embossed Army belt buckle
1.33 years experience of Embossed military belt buckle
2.OEM designs are warmly welcome but we do have some ODM designs for selection.
3. Our Embossed military belt buckle is 100% in-house production. All the steps are processed in our own factory starting from raw material, mould engraving, stamping/casting, polishing, coloring, plating etc. to the finished products.
4.  Custom Embossed military belt buckle could 100% Meet SGS 5000 & EN-71 Standard. Also, we can guarantee our products to meet your specific requirement on the material content, plating layers, functional attachment etc. only if you could inform of us in advance.
5. As specialized Embossed military belt buckle manufacturer, we are 100% Customer Focus on the design and production of the relative belt buckles. We'll definitely turn your concept into the brilliant belt buckles accordingly.
6. FREE artwork and design for your ordered Embossed military belt buckle with the help of the 200 artist team.
7. Punctual delivery and stable quality Embossed military belt buckle with the help of 2500 workers and around 500 QC.