Military coins
, also named as army coin or challenge coin, is generally awarded for professional achievements in some fields, for years of service, a public or charitable contribution to the development of science, culture, and sport etc.. This is just an on for the years of service. It used the brightest color imitation hard enamel to show the high respect to the people who would be awarded. We say the metal military challenge coin has been used as a way to honor, encourage and reward individuals for their personal and professional accomplishments. We, Donghong, would definitely convey all these honor and respect into each perfect and high-quality metal coins.
Also, for this kind of special meaning coins, do not forget to pack them in a special way. In addition to purely aesthetic functions, a good case will protect against mechanical damage and maintain coin in excellent condition. In general, coins can be wrapped in the Plain bag, bubble bag or PVC pouch. But a clear coin capsule or velvet pouch, velvet box, paper box or something the like would be better choices for your precious and meaningful coins.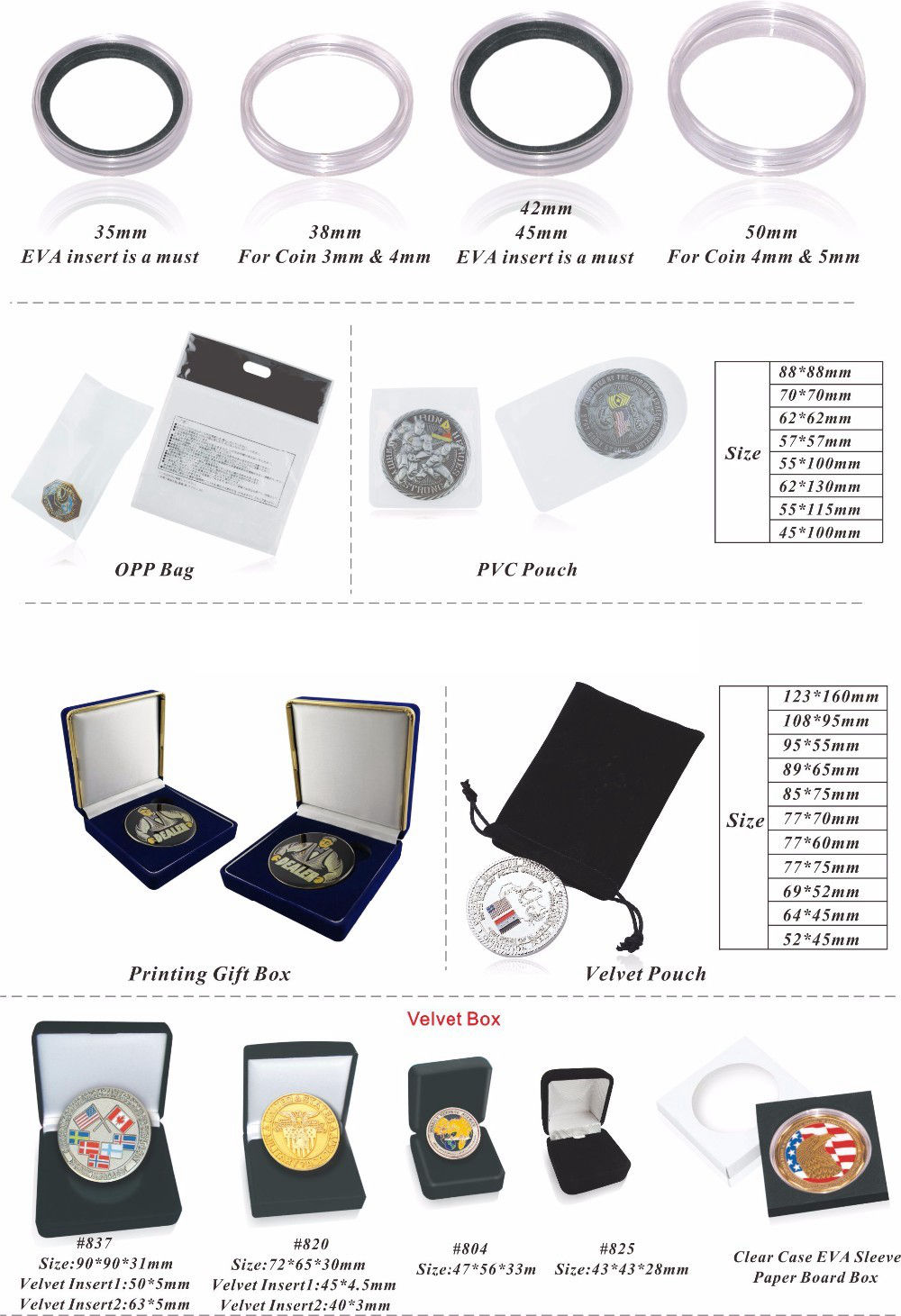 Specifications of the Military Challenge coin
Optional metal material: bronze, copper, iron, zinc alloy, spin cast pewter, aluminum etc.
Size: customized but the general size would be 38mm / 42mm / 45mm /50mm.
Plating color: Gold, silver, bronze, nickel, copper, chrome, black nickel, dyeing black, antique series, satin series, two-tone plating etc.
Color option: hard enamel (for one side design only), imitation hard enamel, soft enamel, without coloring, extra printing or printed sticker etc..
Mould design: 2D or 3D on one side or two sides, to be determined by the customer.
Optional Packing details: bubble bag, PVC pouch, velvet pouch, plastic box, velvet box, paper box etc..
Advantages of our Imitation Hard Enamel Metal Military Challenge coin with Gold plating
1.OEM of Imitation Hard Enamel Metal Military Challenge coin with Gold plating is acceptable. As a professional OEM metal coin manufacturer, we can make the artwork according to the customers' requirement for free, then turn the approved designs to the classic high-quality metal challenge coin accordingly.
2.With 33 years experience for the OEM metal challenge coin, we could provide the best suggestions for your various OEM 3D metal coin.
3.No limited MOQ. We can produce the military challenge coin according to your required QTY. Just bigger QTY would definitely win better price.
4.Good quality and efficient customer service. The strict quality control system to ensure the quality and well-trained sales Rep. assure good pre-sales service and after-sales service.
5.Free sample: free samples can be offered for quality reference.