Cufflinks are great for brand recognition, promotions, corporate gifts, or personal unique gifts. And custom made Cufflinks are the perfect product for your corporate, political, or personal demand. We have manufactured and delivered various different custom made cufflinks to many organizations for their unique purpose in the past more than 30 years and have enjoyed the high reputation among them. Dong Hong is good at transforming your customized image or logo to a cufflink, offering our best suggestions of the technique according to your logo designs. We also have certain open design cufflinks available for the customer to choose from, which can save the mould fee for them.
Also, based on the different demanding purpose, we'll suggest different material processes for our client. For example, for the premium and precious items, we'll suggest bronze or stainless steel material for your cufflink. If for the giveaway or promotional purpose in large QTY, we'll suggest zinc alloy accordingly. So the cooperation between us is pretty flexible and personalized. We'll make sure your each penny to be spent on the knife blade and win the most favorable benefit.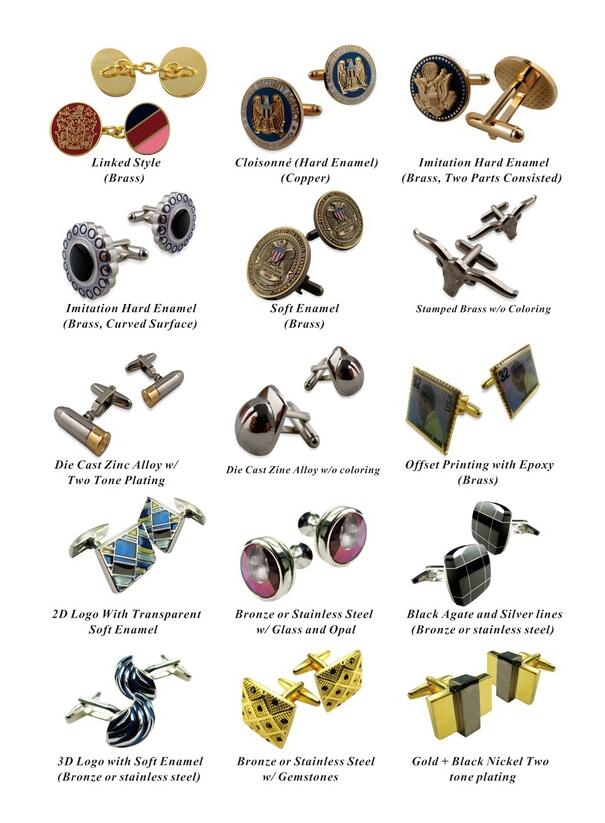 Specifications of cufflinks
Available metal cufflinks accessories are #310, #311, #312 and #313
Cufflink materials can be copper, bronze, zinc alloy, stainless steel or even sterling silver.
Logo presentation can be made by various techniques in 2D or 3D design, such as cloisonne, imitation hard enamel, soft enamel, zinc alloy or pewter material, or even by the printing process.
We can suggest the best technique according to your image and logo and your budget if necessary.
Metal logos will be fixed with silver soldering or riveted to fix the accessory stable.
Low minimum orders quantity of less than 100pcs per design.
With warehouse both in Dong Guan & Hong Kong enables a faster and easier delivery with every possible means, such as by air, by sea or couriers both from China mainland or Hong Kong.
Reasonable price, high quality, fast turn-around with no rush order fee, speedy delivery to worldwide by FedEx/UPS/DHL. Act efficiently within 8 working hours. As the best metal cufflink factory, we work all the best for your needs. If you would like advice or a quotation for custom cufflinks, please feel free to drop us an email!
Email: order@forever-eb.com Tel: +86-769 22900190 / 0190