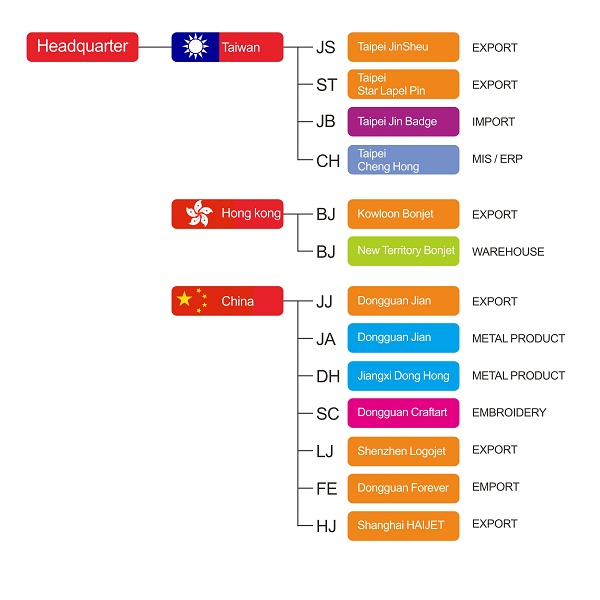 1984:
Punctual Co., Ltd was found in 1984 in Taiwan, specialized in various processes of lapel pins, especially sophisticated in hard enamel material. Punctual Co. served local trading companies and domestic demands for years, but factory has been down sized since 1994 because Dongguan Jian set up and produce the majority of jobs, "Punctual" main business is focused on local (Taiwan) markets.
1991:
Jin Sheu Enterprise was founded to start export and trading business. With the wholeheartedly support from Punctual Co. in the first few years and Dongguan JIAN in later years, Jin Sheu has a well reputation for producing custom badges; emblems; embroidery patches; lanyards and soft PVC & silicone items. With purchasing department established in Dongguan, our product lines including more promotional items.
1994:
BONJET INT'L was established in H.K. to handle all the goods shipped from Mainland China . The warehouse located in Shatin New Territory and the sales office situated in Kowloon. Bonjet also export JIAN's products to worldwide monthly.
1996:
Dongguan JIAN Plastic and Metal Products, Ltd. was established in China to enlarge the production capacity. JIAN specializes in manufacturing pins, key chains and other emblem products. Our process includes die stamping; photo ethching; printing, die casting & spin casting. All of our customers are satisfied with our superior quality, prompt delivery and efficient service as well as reasonable prices. It's also our main production premise for the military items now.
2001:
CRAFTART EMBROIDERY, the 2nd factory was found in Mainland China in order to match customers' requirement in competitive prices for embrodiery products. With 26 years of production experience in Taiwan, we believe moving the factory to China is a guarantee benefit for all the existing customers.
2002:
The Foreign Trade Department of JIAN was founded in April to expand the export business.
Logojet International Ltd. In Shenzhen.
2011:
Dong Hong Craft & Art Co., Ltd
was established in Dongguan, 10 minutes away from the Dongguan military craft factory. With the sales office and factory in the same location, we guarantee customs instantaneous service without any interruption in Taiwan or HK as we can communicate with factory face to face and inspect goods before shipment. We are also in advantage in sourcing other suppliers for special attachments and packing materials, which means you can enjoy the one-stop service in working with us.
What's more, comparing to all the other branch companies, our office has the ability of handling some shipment from Chinese domestic port directly. It would help to save time and cost accordingly.
2012 :
Star Lapel Pin in Taipei – sales office.
2014:
Dong Hong Craft & Art Co., Ltd production factory was founded in Jiangxi Dayu to expanding our production capability. Also, we moved almost all of our promotional items into this new production basic so that our Dongguan factory could focus more on military items.
2014
Haijet Enterprise in Shanghai – sales office.
We are keeping on developing our business and improving ourselves to satisfy our esteemed clients.
Our Team