Custom woven label is an excellent alternative to the embroidered patches. They are cost effective and have a greater capacity for detail and resolution. It would be considered as the first priority alternatives if the emblems can't be embroidered due to the very fine details and small letters. Nowadays it becomes more and more popular because of its economic cost as well as the perfect detail presentation.
As the OEM manufacturer, we've been devoted to help the client achieve their requirement and original thoughts as close as possible. So, except the single woven process or the embroidery process, we've even combined them together into one single item. For example, the background of the logo or main part of the logo to be woven while the key point area or border to be embroidered, printed or sublimated. Then it can combine the strength of each process into one item directly and present the logo more vivid and more classic. Even though, it would be much more difficult to proceed and the quality control, but the win the clients' agreement and smile, we're always willing to try our best.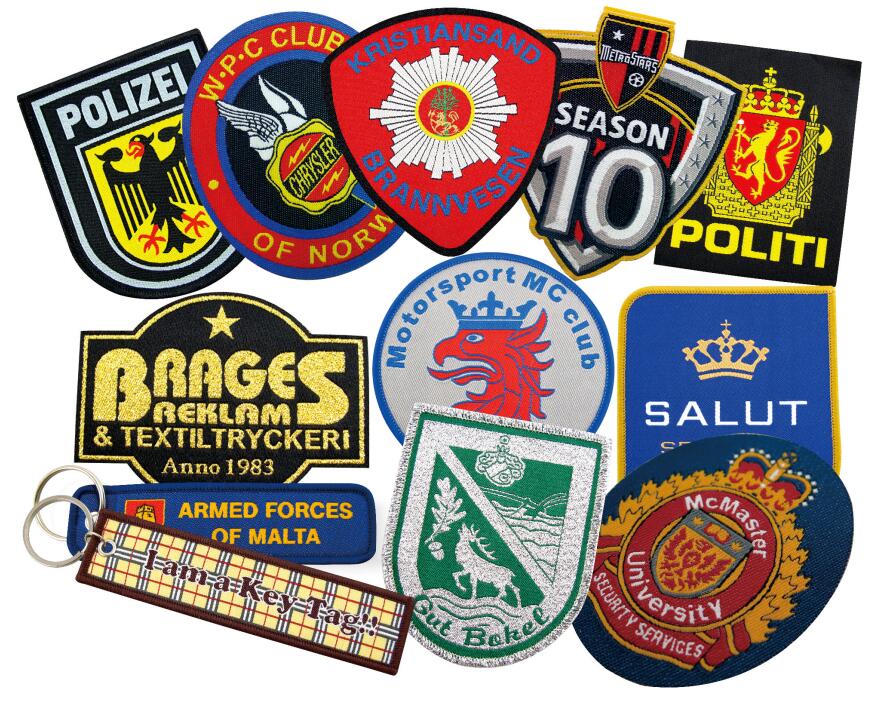 Specifications of the woven labels
1. Colors can be woven up to 12 colors on a single label.
2. Pantone book for color reference
3. Gradient colors; metallic gold & silver; fluorescent colors are all available.
4. Back side can be made with iron on, paper backing, adhesive back or with velcro.
5. Borders can be laser cut, heat cut and over locked (merrow border) or embroidered
6. MOQ is 100pcs per design or USD20 as basic charge.
7. Fast turn-around time with 7 ~14 days
8. Unit price and set up fee are negotiable
9. More accurate and precise detail
10. Ability to have clean and smaller lettering
11. Close to photographic realism
12. No worrying about embroidery percentages
13. All woven patches have 100% coverage
Woven Applications
Fashion accessories, woven patches, woven keychain, woven applique, woven zipper puller, woven bracelet, woven marks, woven loop, woven mobile cleaner etc.
Reasonable price, high quality, fast turn-around with no rush order fee, speedy delivery to worldwide by FedEx/UPS/DHL. Act efficiently within 8 working hours. As the best uniform accessories factory, we work all the best for your needs. If you would like advice or a quotation for custom woven items, please feel free to drop us an email!
Email: order@forever-eb.com Tel: +86-769 22900190 / 0190