For the soft PVC items in the promotional industry, it generally covers things like PVC badge, PVC keychain, PVC charms, PVC mobile strap, PVC Coaster, PVC bottle opener, PVC bracelet, PVC ornament, PVC fridge magnet, PVC earphone cable winder, PVC photo frame, PVC paper clip, PVC bookmark, PVC luggage tag, PVC mug, PVC key cover, PVC earring, PVC decorative wall hook etc.. Just like the metal promotional items, it can be presented into a lot of different final items just by changing its accessories.
Because of the cheap and flexible characteristic of the soft PVC material, the soft PVC items have been widely used in our daily life as well as promotional industry. Even though our original production line is metal crafts, but to satisfy our client with one-stop service, we have developed our soft PVC production line accordingly around ten years ago. With strict requirement and honest communication with our client, our soft PVC item production line has developed very quickly as well.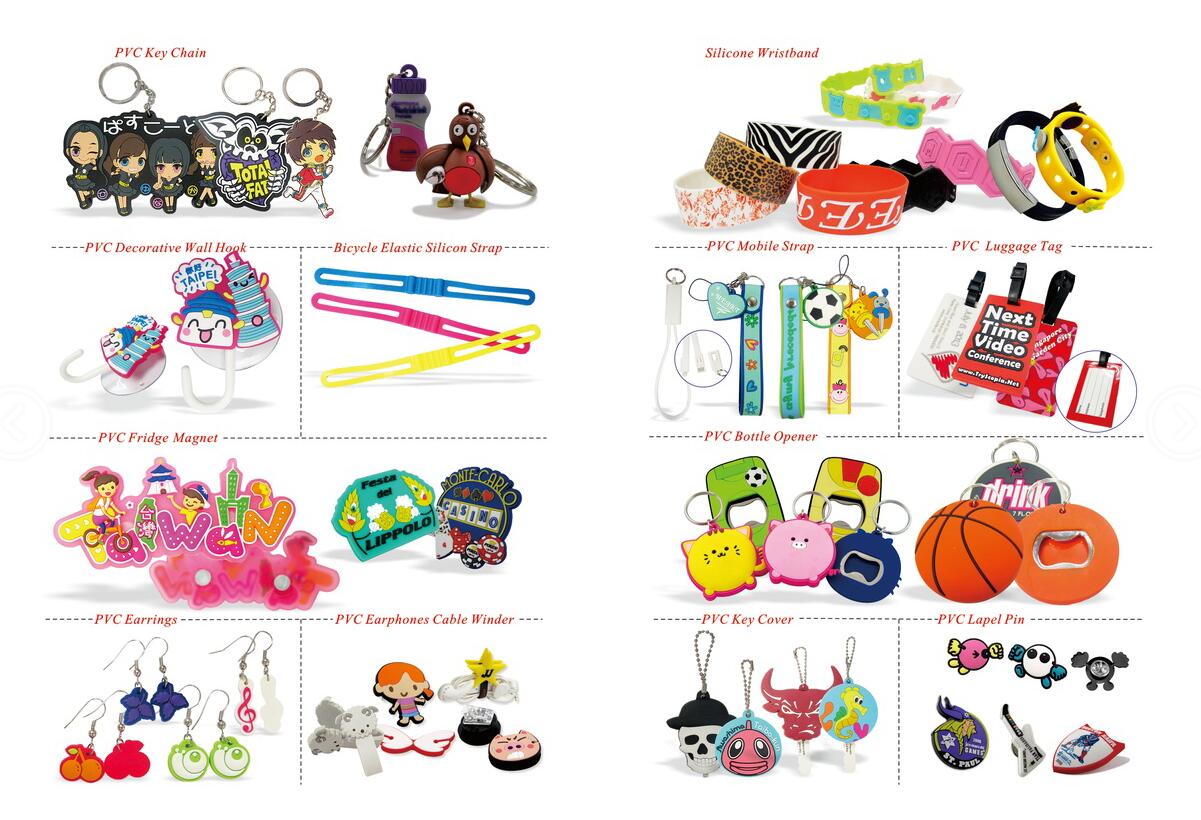 The specifications of the soft PVC items
Material: Soft PVC, 7-P free, non-toxic
Color: according to the PMS chart
Design: 2D one side, 2D two sides, 3D one side, 3D two sides, full 3D
Presenting way and accessories: according to the client's requirement
Logo process: debossed with or without color, embossed with or without color, printing, laser engraving
Package: plain poly bag, OPP bag, OPP bag with backing card or with head card, gift box, blister etc.
Generally delivery date: 1 day for artwork, 7 days for sample and 14 days for mass production
With warehouse both in Dong Guan & Hong Kong enables a faster and easier delivery with every possible means, such as by air, by sea or couriers both from China mainland or Hong Kong.
Reasonable price, high quality, fast turn-around with no rush order fee, speedy delivery to worldwide by FedEx/UPS/DHL. Act efficiently within 8 working hours. As the best promotional item factory, we work all the best for your needs. If you would like advice or a quotation for custom epaulet, please feel free to drop us an email!
Email: order@forever-eb.com Tel: +86-769 22900190 / 0191