A keychain, key fob or key ring is a small chain, usually made from metal or plastic that connects a small item to a keyring. The small item could be produced in various shape and process. Here we mainly introduce our metal keychain with you which means the main material to be metal like zinc alloy, bronze, iron, aluminum, stainless iron, stainless steel etc.
Donghong has been involved n the metal crafts for more than 30 years, the metal keychain is one of its main products. They are so many different keychains available here.
According to the design, the metal keychain could be OEM and ODM. The main parts are the OEM designs but we also have developed a series ODM designs to meet the client's different requirement. But the client could also add their logo by printing, laser engraving or sticker process.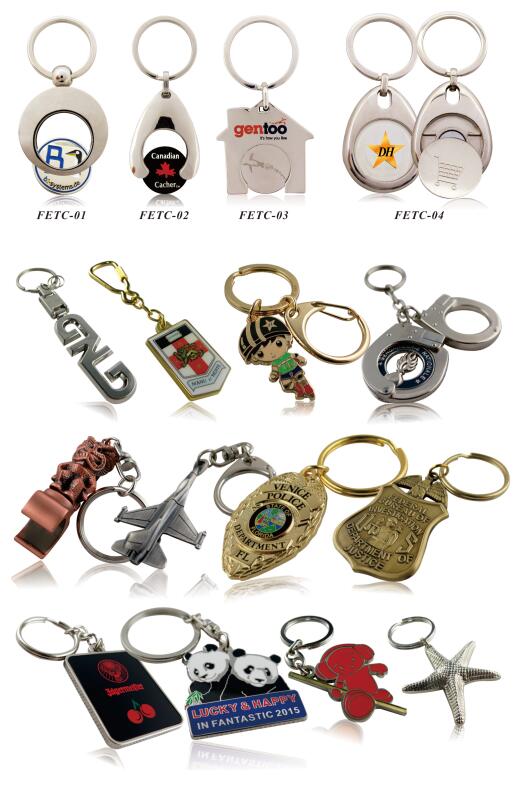 According to the material, the
metal keychain
could be in zinc alloy, copper, iron, aluminum, stainless steel, stainless iron, pewter etc.. Our professional sales team would make a suitable suggestion on the material according to your design the budget.
According to the logo and color, the metal keychain could be presented by filling hard enamel, imitation hard enamel, soft enamel, or silkscreen printing, offset printing, without coloring etc.. We can proceed according to your requirement or if you are not sure which way is the best way to present your logo, just rely on our sales Rep. and production line, they'll communicate with you well and make the most favorable suggestion accordingly.
According to the attachment, it could be more options. Only if you can imagine or show us a reference picture of the style you want, we can find our and produce for you.
Nowadays, the metal keychain is much more widely used rather than just being a convenient tool to hold the keys. It's more like an advertising or promoting tool, a logo brand, a fashion decoration, a pressure release toy etc.. Every edge people could be the potential end-client. According to the statistic record, the metal keychain has been one of the top 10 promotional items in the past 20 years. So it would definitely be one of your best choices to promote your company or business.
Getting a reliable supplier has been always very important for company and business' development. Contact us right away to consult your metal keychain and promotional project. Thanks.
Our Strength:
Excellent quality, competitive price, timely shipment, wonderful customer service, professional one stop solution service