Generally, a hat badge would be with more complicated design comparing to the common giveaway or promotional badges since it would generally contains the logo for some specific department or organizations, then it would require the turn out badges to be the same as the original design concept as much as possible. It's a kind of products to show your skills and capability on the metal craft industry. Here I'd like to introduce a Canadian military 2 tone plated hat pin/cap badge for you. From the picture, it's easy to see the complicate construction and design of the hat badge. First, it's made of two pieces. Both piece with very detail and vivid 3D effect. Second, there are so many cutouts on both pieces. It's not easy to achieve so neat and straight cutout by die stamping bronze. Without proper and skilled process, the badge might be damaged or distorted easily. Or sometimes, the mould would break as well. Third, on the top piece of the hat pin, we can see it contains two tone plating, the gold effect for the main part while nickel plating for the swords blade. Even though the two tones are created in one piece, they are divided clearly and neatly. Without the more than 30 years experience and strictly quality control, I think, this piece of art won't be able to be exposed into our vision.
As we always talked to our client, you are always warmly welcome to come and visit our factory. To see how each piece of the hat badges to be produced out and checked before shipment.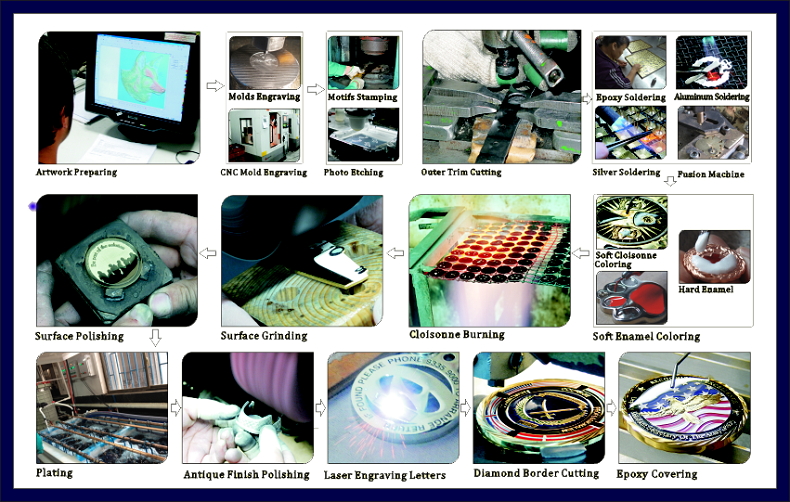 Advantages of our Canadian military 2 tone plated hat pin/cap badge
1. OEM design of the Custom Canadian military 2 tone plated hat pin/cap badge is acceptable. As a professional personalized cap badge manufacturer, we can make the artwork according to the customers' requirement for free, then turn the approved designs to the classic high quality Personal hat pin with several pieces together.
2. With 33 years experience for the OEM cap badge, we could provide the best suggestions for your various OEM hat pin.
3. No limited MOQ. We can produce the military quality hat badge according to your required QTY. Just bigger QTY would definitely win better price.
4. Good quality and efficient customer service. Strict quality control system to ensure the quality and well-trained sales Rep. assure good pre-sales service and after-sales service
5. Free sample: free samples can be offered for quality reference.